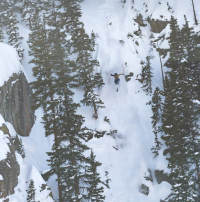 *** CANCELED ***
CANCELED - Taos Freeride Championships
Time: 9:00am Day: Wednesday Doors: 8:00am Ages: 18+ Ages Price: $160
This Event Has Ended
It is with great sadness that we must announce that the difficult decision to cancel the Taos 2 and 4* Freeride World Qualifying (FWQ) events for the 2018 season.
As many who have competed in the Taos Freeride events over the years at Taos Ski Valley can attest, safety is the most important priority for our competitions and a key component of this is the condition of the event venues.
After a careful review of our existing snowpack along with the potential for additional storms was done by our snow-safety and mountain operations staff, it has been determined that the venues would not be able to host a freeride event with conditions that would provide a safe and fun environment for competitors. Given this analysis, Taos Freeride will not be happening this season.
We understand that many athletes, along with fans of freeriding and the larger skiing community, will be disappointed with this news. However, we also know that everyone would prefer to see the event take place in a safe and responsible manner, which, given the cards dealt to the Ski Valley by Mother Nature, isn't possible during the scheduling window for the event.
We look forward to welcoming everyone back in Taos in 2019 and appreciate your understanding.
If you have any questions please contact Kaela, kaela.gillum@skitaos.com.