Choose Showtime to Buy Tickets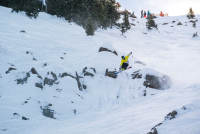 Junior Taos Freeride Nationals
Big lines and rippers! Don't miss out on the 2018 Junior Taos Freeride Nationals held on the famed steeps of Taos Ski Valley. Watch as juniors from around the country descend on Taos to showcase their skills. 
Pre-Qualified Registration opens on December 3, 2017. Registration opens to all December 10, 2017.
Schedule of Events (subject to change, more details to come):
Wednesday, February 7: Regional & National Registration
Thursday, February 8: 

Morning Meeting
Regional Competition
Regional Awards
National Registration

Friday, February 9: 

Morning Meeting
Day 1 National Competition
Results 

Saturday, February 10:

Morning Meeting
Day 2 National Competition
Results

Sunday, February 11:

Morning Meeting
Finals National Competition
Awards
For the full IFSA schedule and more information please, CLICK HERE.